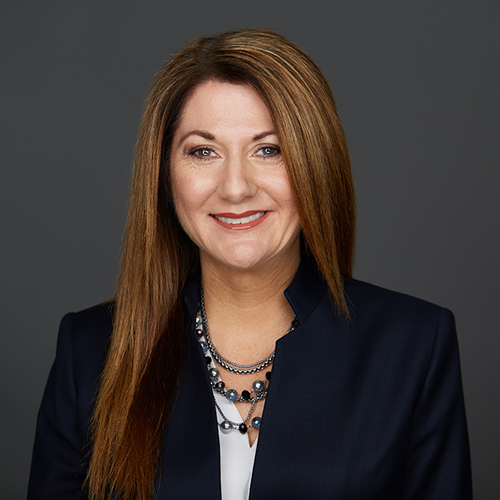 BJ Schwartz
President and CEO
BJ is responsible for measurement and effectiveness of all processes, and the operating condition of the company. She spearheads development, communication and implementation of growth strategies and processes. She also oversees the operational infrastructure of all systems, processes and personnel to meet the objectives of the company. In addition, she  recruits and assists in the training of all new members of the team to ensure excellent customer satisfaction.
Christine Redovan, MBA, MLIS
Graduate Medical Education Consultant
Chris is a graduate of Cleveland State University with a Master's in Business Administration.  She has successfully helped a significant number of new residency programs and institutions reach full ACGME accreditation status here in the United States and internationally (ACGME-I) in Abu Dhabi, UAE.  She has also been successful helping existing institutions and programs (across multiple specialties) prepare for ACGME re-accreditation, address adverse actions, or transition their institution or program from AOA accreditation to ACGME Single Accreditation.
Chris brings a wealth of experience from her previous GME director role where she managed all aspects of ACGME accreditation from the institution and program perspective including dually accredited programs.  With over 25 years of undergraduate and graduate medical education experience, Chris has the knowledge and expertise to provide practical, accessible solutions for today's graduate medical education (GME) challenges.
Heather Peters, M.Ed, Ph.D
Graduate Medical Education Consultant
Heather received her Masters of Education degree in curriculum and evaluation, with an emphasis on distance education.  Her PhD concentration was post-secondary education and adult learning theories. Dr. Peters has been successful in helping institutions and multiple programs achieve their highest ACGME accreditation potential.
Dr. Peters previously worked as an educational analyst for multiple programs in a single institution. Heather is very knowledgeable about all aspects of the program and institutional requirements, with expertise in the area of Annual Institutional Reviews, Annual Program Evaluations, milestones, evaluation systems, curriculum development, CLE principles integration, as well as strategic planning and faculty development.  She is also well versed in AOA to ACGME accreditation. A seasoned national speaker, Dr. Peters offers three decades of experience in education, curriculum, evaluations, and adult learning theories.
Her diverse background and education demonstrates that, Heather has the knowledge and experience to provide innovative solutions for the ever changing GME environment.
Carmela Meyer, MBA, EdD
Graduate Medical Education Consultant
Dr. Meyer received her Master of Business Administration with an emphasis in Organizational Behavior from the University of Missouri in 1995, and her Doctorate in Education Leadership and Management from Capella University in 2012.
Carmela has over 25 years' experience in medical education for both academic centers and community-based hospitals. Her area of expertise includes developing new GME programs, moving programs off warning status, institutional and program reviews, outcomes-based curriculum and assessment, faculty and professional development, as well as a strong background in GME finance.
She is also well-versed in developing administrative processes including coordinator development and preparing learners for board exams.
Dr. Meyer's educational background along with her diverse experience make her a great resource to support all your GME needs.
Victoria Hanlon, MS, CHCP
Graduate Medical Education Consultant
Tori received her Bachelor in Health Services Administration degree from James Madison University and her Master  in Healthcare Administration and Policy degree from George Mason University. She brings a wealth of GME experience from both a community hospital perspective where she became familiar with the unique challenges faced by smaller institutions with GME, as well as the large academic medical center where she managed accreditation requirements for multiple residency programs.
She is well-versed in the ACGME requirements, single-sponsor institutions, osteopathic GME and AOA to ACGME accreditation.  Tori has broad experience in policy writing and implementation, as well as quality improvement in GME.
Her fresh, global perspective on the challenges seen within the GME environment addresses the needs of small community hospitals and large academic medical centers, as well as dual experience from AOA and ACGME accreditation systems.
Amy Durante, MHA
Graduate Medical Education Consultant
Amy received her Bachelor in Health Information Management degree from Kean University and her Master in Healthcare Administration degree from Seton Hall University.
Amy began her career in GME as a Radiology Fellowship Program Coordinator where she assisted in developing the program to obtain its initial ACGME accreditation before transitioning to a new role at a new facility as the Manager of GME and Academic Affairs where she handles all of the institutional requirements as well as overseeing all ACGME and non ACGME accredited programs.  In addition she enjoys creating new initiatives for trainees incorporating Quality Improvement and Patient Safety as well as wellness and cultural diversity.
Amy brings a wealth of knowledge to the team with her varied experience and educational resources.
Grace Brannan, Ph.D
Graduate Medical Education Consultant
Grace received her Bachelor of Science degree from the University of the Philippines, a Master of Science from the University of Georgia, and a Doctor of Philosophy from Kansas State University.
Over the years, Dr. Brannan has built extensive experience in scholarly accreditation requirements. Currently as a consultant her passion is with working with community hospital residencies (MD and DO) and medical schools in creating and implementing research strategies and programming. As Research Faculty for General Surgery, Orthopedics, Emergency Medicine and OB/GYN residency programs, Grace collaborates with attending physicians and residents in the design, analysis, and interpretation of clinical and medical education research. More recently, she held the position of medical school Associate Dean for Research where she created and successfully implemented a continuum of research strategy across undergraduate and graduate medical education. Prior to this, as Research Executive Director at a state medical school she led the research vision and strategy of its statewide 25-hospital residency training consortium.
Grace is an accomplished researcher, leader, teacher, and administrator. She has over 30 years of experience, over 16 years of which were in healthcare and medical education.
Dr. Brannan's extensive experience and education make her a great resource to support all your GME needs.
Cheryl Haynes, BA
Graduate Medical Education Consultant
Cheryl Haynes, BA,  received her Bachelor of Arts Degree from the University of South Carolina. She has worked in Graduate Medical Education for more than 22 years, starting with 5 years in Continuing Medical Education and Faculty Development before transitioning to program administration in 2004. Cheryl has worked in residency and fellowship administration in both a large academic center with multiple specialty programs and in a single institution, community-based program.
Since 2014, she has served on the Board of Directors for the Association of Family Medicine Administration, holding various leadership positions, including President. Cheryl has participated in two research projects related to coordinator professional development and well-being, resulting in publications in both a national and an international journal. She is an experienced presenter, having done numerous invited and peer-selected presentations for the ACGME, AAFP and ACOFP as well as at regional educational conferences before joining Partners.
Erin Reis, MBA, EdD, FACHE, C-TAGME
Graduate Medical Education Consultant
Erin received her Bachelor's in Science degree majoring in Healthcare Administration and her Master of Business Administration Degree from the Executive MBA program through the University of Toledo. She will complete her EdD in Organizational Leadership and Health Care Administration in Spring 2020. Erin is a Fellow of the American College of Healthcare Executives (FACHE) and a Board-Certified Training Administrator for Graduate Medical Education (C-TAGME). She holds a faculty appointment at Michigan State University College of Human Medicine.
Erin has served in Graduate Medical Education and hospital leadership for over eight years, working with new and established residency programs to create alignment between education, community need, and organizational goals. She has successfully partnered with programs and hospitals for continuity clinic development strategies for meeting not only ACGME program requirements, but also staffing matrix's, staff development, and projecting sustainability within the community.
With her expertise and diverse background, Erin has the knowledge and experience to bring solutions for both accreditation and finance to programs and organizations.